Acis & Galatea Irish Times Review
Wednesday, March 29, 2017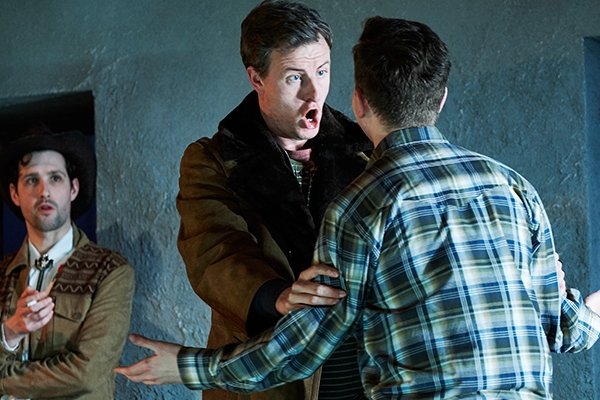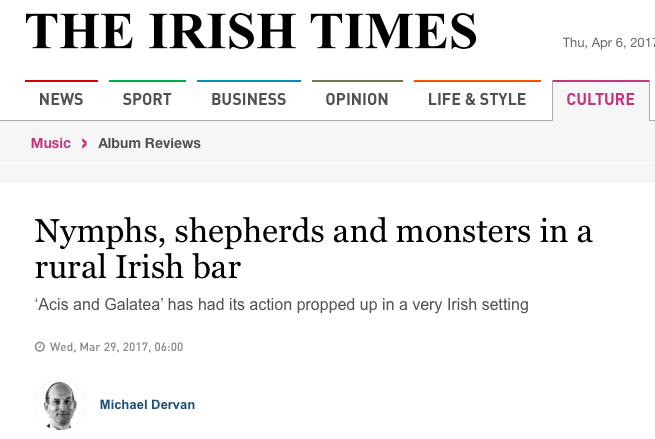 Handel's Acis and Galatea is a masque rather than an opera proper. "There will be no Action on the stage," says a 1732 advertisement by Handel, "but the Scene will represent, in a Picturesque Manner, a rural Prospect, with Rocks, Groves, Fountains and Grotto's [sic]; amongst which will be disposed a Chorus of Nymphs and Shepherds, Habits, and every other Decoration suited to the Subject."
Opera Theatre Company's artistic director Fergus Sheil sees his company's new production of the work, which opened at the National Opera House in Wexford on Saturday, as "a uniquely Irish take". Director Tom Creed and designers Paul O'Mahony (sets) and Catherine Fay (costumes) have taken Handel's pastoral world of nymphs, shepherds and monsters and moved it into a rural Irish bar.
But the idea is as much international as Irish. Change the names of the brands in the room and you could easily be in one of the rough Kentucky hangouts that confront maverick lawman Raylan Givens in the TV series Justified. Some Kentucky districts even have smoking bans that would make sense of the rotating set which shifts some of the scenes out of doors when people exit to smoke.
The plot tells how the nymph Galatea (soprano Susanna Fairbairn) resists the advances of the giant Polyphemus (bass baritone Edward Grint). When Polyphemus finds Galatea together with her beloved Acis (tenor Eamonn Mulhall), he kills Acis with something large enough to be called a "massy ruin". The tightness of the updating can be well gauged by Creed's treatment of this crucial action. He turns Polyphemus into an obnoxious drunk and has the fatal deed carried out with concrete brick.
The new production brings together the resources of OTC and the Irish Baroque Orchestra, with Peter Whelan directing the period-instruments' players from the harpsichord. Acis and Galatea is a work that simply brims with Handelian favourites, and Whelan gauges their moods and colours with consistent elan.