Arts Council announces major new opera partnership
Monday, July 03, 2017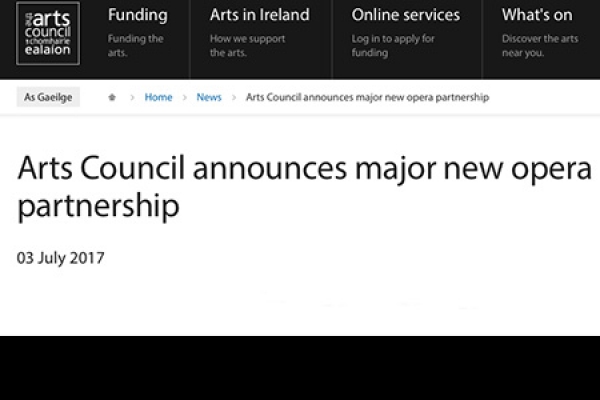 Following an open proposal process and receipt of the recommendation of its international advisory panel, the Arts Council has selected Opera Theatre Company and Wide Open Opera as the preferred provider of main-scale opera in Dublin from 2018. The two organisations will merge in the months ahead to form a single company. READ FULL RELEASE HERE
Discussions will take place during the summer with the aim of reaching a funding agreement with the merged company, aiming to complete the process by the autumn. The completion of this agreement will result in the return to the Dublin stage, after a gap of some eight years, of regular Irish productions of the great operatic repertoire. These productions will also tour to Cork and Wexford.
"This decision is a key element of the Arts Council's new opera policy and strategy," said Arts Council Chair Sheila Pratschke. "Along with the growth of smaller-scale touring opera and our ongoing support of independent and emerging opera artists and producers, it will improve significantly the opera offering for audiences, and open up greater opportunity for artists.''
In addition to main-scale opera for Irish audiences in Dublin and other cities, the Arts Council has also committed to introducing a new opera commissions award; bursaries for opera artists; a travel and training scheme for opera artists; a new three-stranded Opera Production and Projects award which will integrate support for independent producers and artists; continued support for the further development of Festival Opera; and smaller-scale touring opera across Ireland.
Ms Pratschke said today's announcement came after a dialogue process with the sector and a detailed review of opera policy and provision in Ireland.
"Our 10-year strategy, Making Great Art Work, prioritises support to both the individual artist and public engagement, and our approach to opera forms a significant part of that," she said.