Meet the 24HR Opera artists
Monday, May 29, 2017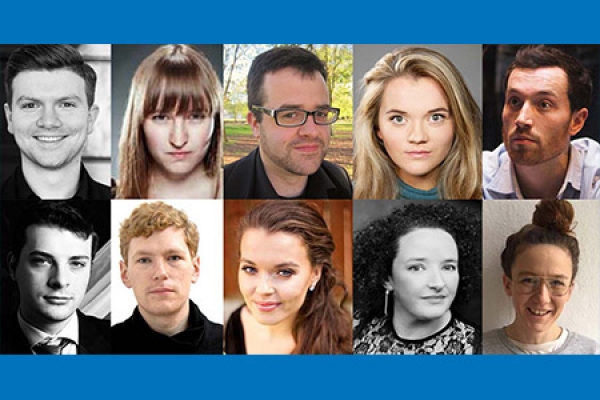 Eoghan Desmond Music Director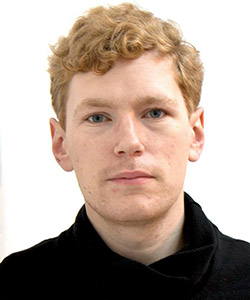 Eoghan is a conductor, composer and baritone from Cork, currently resident in Dublin, Ireland. He is a member of Chamber Choir Ireland, and a Lay Vicar Choral in St Patrick's Cathedral, Dublin. Eoghan is the founder and director of Dulciana upper voices choir, who are committed to bringing performances of music by female composers to the Irish public. In 2017 they were invited to close the New Music Dublin Festival and to perform on International Women's Day by Kaleidoscope. He has conducted them in over a dozen world premiéres, and this autumn will be bringing Jennifer Jolley's daring work Prisoner of Conscience to Europe for the first time. Eoghan also worked extensively with Téada String Orchestra from the years 2013-15, on programmes spanning Telemann to contemporary singer-songwriter repertoire, including a collaboration with renowned artist Loah. Recently Eoghan has worked with Siobhra Quinlan and SFiiiNX Sinfonia on Siobhra's debut album "From His Rib". Eoghan's music has been performed all over Ireland, by Chamber Choir Ireland, ConTempo String Quartet, Ensemble Avalon, New Dublin Voices, Claire Duff, Malachy Robinson, the Gentlemen of St Patrick's Cathedral and is in demand in various countries across the globe, including the US, the UK and Europe. In 2015 he was awarded the Seán Ó Riada prize for Choral Composition for his piece, Mother Goose's Melodies. MGM and its sequel, More Mother Goose's Melodies are published by Sulasol. He is also the recipient of the 2015 Jerome Hynes Young Composer's Award, for which he composed a setting of Rimbaud's Phrases. On the back of these wins, he has been commissioned by the RSCM, Christ Church Cathedral and the National Concert Hall. He is undertaking a PhD in Contemporary Choral Music in the University of Aberdeen. An accomplished soloist and recitalist, Eoghan has sung baritone or bass solos in such classic works as the Requiems of Verdi, Brahms, Mozart, Faure and Duruflé, both the St Matthew and St John passions, Haydn's Creation, Handel's Messiah, Vaughan-Williams' Hodie and Mendelssohn's Elijah, in addition to less common works such as Vaughan-Williams Willow-Wood (Irish première). His song repertoire is extensive and covers everything from 16th century lute songs to song cycles composed especially for him.
Zoe Ní Riordáin Director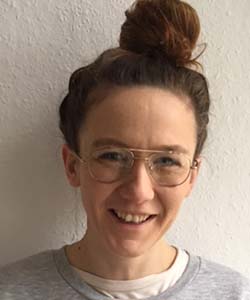 Zoe is a theatre writer/director, songwriter and musician from Dublin. Recent original music based theatre pieces include Recovery (Project Arts Centre April 2016) and The Well Rested Terrorist (Peacock Theatre, Dublin Fringe Festival 2014, Best Ensemble Award nomination). Zoe is a founding member of alt-pop band Maud in Cahoots. As assistant director, collaborator and musician, she has worked Pan Pan Theatre Company, Brokentalkers and Junk Ensemble. Other directing credits include the European Premiere of Enjoy by Toshiki Okada (ROUGH MAGIC SEEDS, Project, 2015). Zoe is an associate artist at Project Arts Centre Dublin and a participant in ITI's Six in the Attic intiative.
Sarah Shine Soprano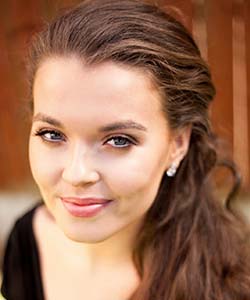 Twenty-three year old Sarah Shine is a graduate of The Royal Irish Academy of Music where she completed a B.A Music Performance and a Recital Artist Diploma under the tutelage of Dr. Veronica Dunne. Upon graduating in June 2015, Sarah was chosen as one of 40 finalists from 1,300 applications across the world to compete in The Neue Stimmen International Singing Competition. Subsequently, she was invited to perform at the German Ambassadors Residence in Washington DC for a Christmas Concert organised by Neue Stimmen and hosted by Renée Fleming. In January 2016 she was a quarter finalist at The Veronica Dunne International Singing Competition. During her studies, Sarah made her operatic debut with two of Irelands leading opera companies. She played the role of 'Jenny's Girl' in The Rise and Fall of the city of Mahagonny (OTC & Rough Magic) in June 2014 and in December made her Wide Open Opera debut as 'Storyteller' in The Oldest Woman in Limerick. Previous roles for the RIAM include Young Vixen The Cunning Little Vixen, Zerlina Don Giovanni Filia Jepthe Cis Albert Herring and Clorinda Il Combattimento di Tancredi I Clorinda. Sarah has won numerous awards at the ESB Feis Ceoil and Sligo Feis Ceoil, as well as being awarded the 2014 €2,000 Irene Sandford Award for Singers at the RIAM. She is a recipient of the Christopher Lynch Operatic Bursary and an Arts Council Travel and Training Award and was a finalist in the Northern Ireland Opera 'Festival of Voice' in 2014. In addition to operatic work, Sarah has given recitals throughout Ireland most notably in The Hugh Lane Gallery as part of The Dublin Song Series (2014). She has performed with the RTÉ National Symphony Orchestra on numerous occasions and in November 2014 she made her debut with The Hibernian Orchestra as soloist for Gorecki's 'Symphony of Sorrowful Songs'. This September, Sarah will join the Academie de l'Opera National de Paris as a singer in residence for the 2017/2018 season.
Bríd Ní Ghruagáin Mezzo-soprano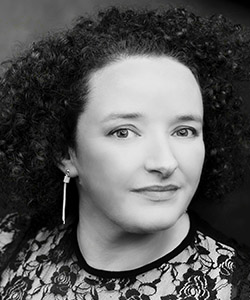 Bríd is a mezzo-soprano, violinist and director/producer. She is currently an Opera Works artist 2016-2017 at the English National Opera. Roles include 'Leah' in the world premiere of LONG STORY SHORT: THE BELFAST OPERA by Neil Martin and Glenn Patterson; 'La Zia Principessa' in SUOR ANGELICA; '2nd Lady' in THE MAGIC FLUTE; 'Zita' in GIANNI SCHICCHI and 'Die Hexe' in HÄNSEL UND GRETEL at the Mezzano Romantica Festival in Italy. She covered the role of 'Nancy Tang' in Wide Open Opera's NIXON IN CHINA, and book-ended centenary celebrations in 2013 for Benjamin Britten as 'Mrs. Grose' in THE TURN OF THE SCREW and 'Mrs. Noye' in NOYE'S FLUDDE. Bríd has sung chorus for NI Opera, Wide Open Opera, the RTÉ Concert Orchestra Opera Chorus and the Kilkenny Arts Festival. Bríd devised and performed DISPATCHES – an opera showcase – with her colleagues at ENO Opera Works. She recently completed a devising community project, SIREN SONG, with various groups around London in response to ENO's production of PARTENOPE. Bríd was invited to premiere a new song cycle, SONGS AFTER RAIN by Neil Martin and commissioned by The Prince of Wales, at a reception for HRH and the Duchess of Cornwall in Hillsborough. Highlights of 2016: guest soloist with the RTÉ Symphony Orchestra; curating a commemorative evening of poetry & song for Dublin Bach Singers, the focus of the National Library's Culture Night events; and singing the title role in Handel's SOLOMON with the Dún Laoghaire Choral Society and Fishamble Sinfonia. Bríd played 'Maria' in Aodh Ó Domhnaill's LÓN LENINGRAD to sold-out houses as part of IMRAM: the Irish Literary Festival last year, and has worked as a devising performer with Louise White Productions and WillFredd Theatre. She has produced new Irish language plays for stage and radio, and works as an Irish dialect coach with classical singers and choirs at home and abroad.
Andrew Gavin Tenor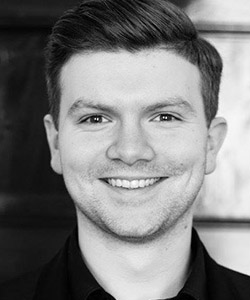 Andrew completed his Masters in Music Performance at the Royal Irish Academy of Music in 2016, achieving First Class Honours under the tuition of Mary Brennan. A graduate of the National University of Ireland, Maynooth, Andrew attained First Class Honours in English Literature. He has holds an M. Phil in Children's Literature from Trinity College, Dublin. Andrew recently performed the role of Damon in Opera Theatre Company's national tour of Acis and Galatea with the Irish Baroque Orchestra. At Wexford Festival Opera in 2016, Andrew performed a ShortWorks role in Donizetti's Il Campanello and chorus for Herculanum and Vanessa. Andrew was awarded the 2016 PwC Wexford Festival Emerging Young Artist bursary. At the Kilkenny Arts Festival in 2016, Andrew sang the role of Arbace in a concert performance of Mozart's Idomeneo. While studying at the RIAM, Andrew sang the role of Tamino in Die Zauberflöte, and also performed the title role in a production of Ormindo by Francesco Cavalli, both at the Samuel Beckett theatre. Andrew made his Wigmore Hall debut in 2016 as part of the 'Irish Culture in Britain: A Centenary Celebration'. Notable oratorio engagements include Handel's Messiah, Mendelssohn's Symphony No.2 'Lobegesang', C.P.E. Bach's Magnificat, Mozart's Requiem, Haydn's The Creation, Beethoven's C Major Mass, J.S. Bach's St. John Passion and St. Mark Passion and the complete Mozart mass series of the Dún Laoghaire choral society. Upcoming engagements include Rossini's Stabat Mater and Liszt's Coronation Mass with Our Lady's Choral Society and the RTÉ Concert Orchestra, Beethoven's Symphony No. 9 with the Dublin Co-Orchestra, and at the Wexford Festival Opera Andrew will perform songs by Thomas Moore in two recitals with Una Hunt, and he will also play the role of Bob Doran in the world premiere of Andrew Synnott's setting of The Boarding House from James Joyce's Dubliners. This opera will be a co-production with Opera Theatre Company, and will tour to Dublin after the festival finishes in November.
Fionnuala Gygax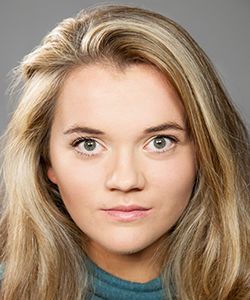 Fionnuala is an actor/writer based in Dublin and graduate of Drama and Theatre Studies, Trinity College Dublin. She was recently shortlisted for the Stewart Parker Award for writing Hostel 16, which was produced in Dublin Fringe 2016, nominated for Best Ensemble. This play was also developed in Druid Theatre Company 2015 as part of their FUEL programme. Recent performance credits include Homebirds and How To Be A Superhero (Smock Alley Theatre),Toraíocht (director: Mikel Murfi), HOSTEL 16 (director: Raymond Keane), The Seagull and Other Birds and Cascando (director: Gavin Quinn) and Eipic (director: Louise Ní Fhiannachta, TG4). She will play Miranda in The Shitstorm, in the Peacock Theatre September 2017, directed by Maeve Stone. In 2015, Fionnuala devised and directed MASS, an examination of the Catholic church in Ireland, Samuel Beckett Theatre. She is currently developing a new piece of work with Danielle Galligan and Venetia Bowe, under the mentorship of Louise Lowe and Anu Productions. She is also developing a children's play she wrote, The Boy In The Boat, supported by Short Works, with a proposed showing in the Ark as part of PUSH in 2017. In 2016 Fionnuala was chosen as one of three Irish artists to take part in a residency in the Münchner Kammerspiele. She is currently participating on the Belltable Theatre-Maker mentorship programme led by Lynne Parker and Deirdre Kinahan.
Robbie Blake Composer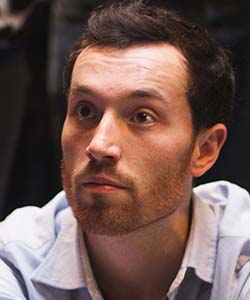 Robbie Blake is a vocalist, composer and performer working in new music, theatre, dance and live art. Creating work in many contexts, Robbie's practice explores how music is made and experienced. His practice is fuelled by curiosity and carried out with sensitivity. Robbie's work has been seen and heard at PuSh Festival Vancouver, Dublin Fringe Festival, Live Collision, Dublin Live Art Festival and Dublin Dance Festival as well as venues RHA Gallery, Smock Alley Theatre and Project Arts Centre. As a collaborator and performer, Robbie has recently worked with choreographers Lucia Kickham (On.Pulse in Project Arts Centre, Firkin Crane Cork) and Rob Heaslip (CORP, Dance Ireland), and as composer / sound designer for Jessie Keenan (EMBODIED, Dublin Dance Festival, GPO Witness History). As creative facilitator, Robbie's work includes projects with the National Museum of Ireland, Dublin City Council, Live Collision International Festival and Tallaght Community Arts. In 2012, Robbie co-founded Tonnta as the company's artistic director. Tonnta is a music company and vocal ensemble dedicated to the performance and interdisciplinary exploration of new music. Tonnta has commissioned, premiered and performed works by numerous leading and emerging Irish composers including Jennifer Walshe, Linda Buckley, George Higgs, David Bremner as well as many by members of the Irish Composers' Collective. In 2016 Tonnta gave over 25 world premieres. www.tonnta.ie
David Coonan Composer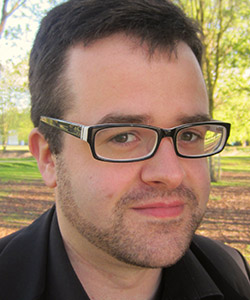 David Coonan's music has been performed by, among others, the London Symphony Orchestra, the RTÉ National Symphony Orchestra, the BBC Symphony Orchestra, and the RAM Manson Ensemble, with conductors including François-Xavier Roth, Pierre-André Valade and Elgar Howarth. He was a Sound and Music 'Embedded' composer-in-residence with the BBC Symphony Orchestra for the year 2016-17, and in 2016 received a 16x16: Next Generation Bursary Award from the Irish Arts Council. He recently collaborated with acclaimed theatre-makers Marina Carr, Wayne Jordan, and Liz Roche on a stage adaptation of Tolstoy's 'Anna Karenina', staged at the Abbey Theatre, Dublin. He graduated from the Royal Academy of Music, London, in 2011 with Distinction and the DipRAM award for 'outstanding' final portfolio.
Anna Murray Composer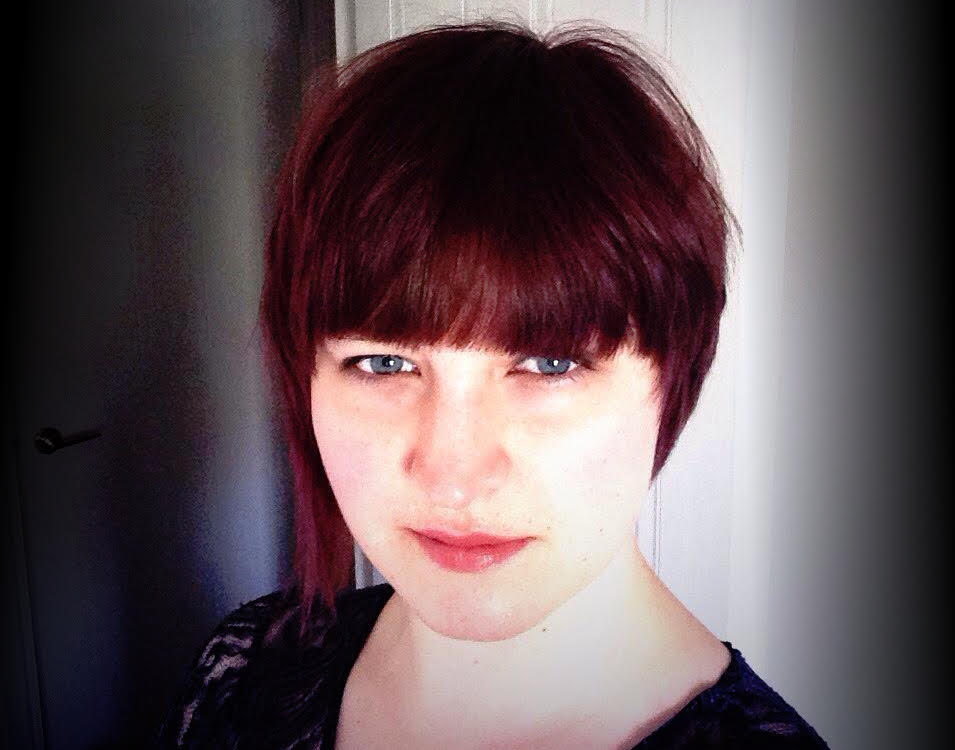 Anna Murray (M.Phil, B.Mus, ARIAM) is a multimedia composer, musician and writer based in Dublin. Anna obtained her Bachelor of Music degree from the National University of Ireland Maynooth in 2009, where she specialised in composition for mixed media. In 2011 she was awarded an MPhil degree in Music and Media Technologies from Trinity College Dublin, where her final project was The Echoes, a multimedia composition exploring the connections between text and music. She is also an Associate of the Royal Irish Academy of Music. Her work focusses on works for small ensembles or solo performers and electronics. She is also an audio-visual artist. As a pianist and composer, Anna has studied with Leonora Carney, Adrian Vernon Fish, Gordon Delap, Donnacha Dennehy and Linda Buckley. She has had works performed by The Crash Ensemble, the Rhombus Ensemble, Philip Lawson, David Adams and the Gap Static Piano Trio and has also had works presented at the Hilltown New Music Festival. She is a member of the Irish Composers' Collective, and is represented by the Contemporary Music Centre. Anna is co-director of Dublin-based new music production group Fractal with Philip Lawson, as part of which she is about to embark on an Irish national tour of new works for guitar and electronics with visuals, curated and engineered by herself and performed by Philip. She also plays keyboard, electronics and bass for The Manhattan Syndrome, and is a qualified piano teacher. Anna is also a journalist in the area of music and the arts, and is an Editor for The Journal Of Music, as well as a contributer to a number of other publications. She also works in the area of arts management, independently and as part of Lundström Arts Management, and concert promotion, with the Irish Composers' Collective, Ergodos and others.
Teodor Radu Composer
Teodor Radu is an Irish-Romanian pianist based in London and Dublin. A recent Masters Graduate of the Guildhall School of Music and Drama, he has completed his advanced instrumental studies under Martin Roscoe and Paul Roberts. Last year, he has been awarded the Polonsky Foundation Fellowship, enabling him to attend the Aspen Music Festival and School to study with the celebrated American pianist Anton Nel. In Ireland, Teodor has achieved an Honours B.A. in performance from the Royal Irish Academy of Music under Hugh Tinney, John O'Conor, and Anthony Byrne and is a multiple prizewinner of Dublin Feis Ceoil competitions. He has performed in public Masterclasses given by distinguished pianists such as Ralf Gothoni, Ronan O'Hora, Robert Kulek, Benjamin Frith, and Pascal Nemirovski and has appeared in venues in Dublin, London, United States, Switzerland, Spain, France, and Northern Ireland. He has an ardent passion for chamber music and is a member of the Irish Composers' Collective.